Short reading comprehension passages with questions and answers are a valuable tool to enhance children's reading abilities. This resource offers a PDF format containing a diverse selection of passages suitable for children in kindergarten through grade 5. The passages are carefully crafted to facilitate the development of reading skills, including comprehension, vocabulary acquisition, and critical thinking.
By engaging with these passages, children can refine their ability to comprehend written information and extract meaning from texts. This crucial skill not only contributes to their academic success but also equips them with the tools needed for problem-solving and effective learning throughout their lives.
Moreover, the content of these passages has been thoughtfully curated to capture the interest and relevance for first-grade students. Through this resource, young readers can simultaneously enhance their reading proficiency while gaining new knowledge on various subjects.
In summary, the "Short Reading Comprehension Passages with Questions and Answers PDF" is an excellent aid for promoting reading comprehension among children. Its collection of engaging passages, accompanied by thought-provoking questions and corresponding answers, enables young learners to develop their reading skills and foster a lifelong love for learning.
1st Grade Short Reading Comprehension Passages with Questions and Answers Pdf: Winter Fun
Simple reading comprehension passage for 1st graders about wintertime with multiple-choice comprehension questions, and wonderful coloring pages.
Winter Fun
Winter is a wonderful season full of snow, ice, and lots of fun. When the snow falls, children can play outside, building snowmen and having snowball fights. They can also go ice skating or sledding down a hill.
However, it's important to stay warm when playing outside in the wintertime. Children should wear warm clothes, such as hats, gloves, and coats, to protect themselves from the cold. Drinking hot cocoa or tea can also help keep them warm.
Some animals hibernate during the wintertime. This means they sleep for a long time, usually in a cozy den or cave. Other animals, such as birds, fly to warmer places to stay during the winter months.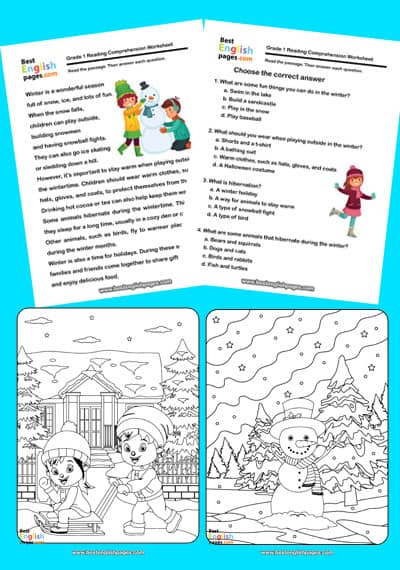 1st Grade Short Reading Comprehension Passages with Questions and Answers Pdf Free Worksheet

here are some additional activities for 1st graders related to the winter reading comprehension passage:
Additional Activities:
Draw a picture of your favorite winter activity. Answer: Answers may vary. Encourage students to use their imagination and creativity.
Write a short story about a winter adventure. Answer: Answers may vary. Encourage students to include details about their favorite winter activity.
Make a list of winter clothing items and their functions. Answer: Here's an example list:
Winter Clothing Items and Functions:
Hat: keeps your head warm
Gloves: keeps your hands warm
Coat: keeps your body warm
Scarf: keeps your neck warm
Boots: keeps your feet warm and dry
Make a winter collage using pictures from magazines or online. Answer: Answers may vary. Encourage students to include pictures of winter activities, winter animals, and winter clothing.
Write a winter poem using descriptive words.
Here's an example poem:
Winter is here, oh what a delight Snowflakes falling, oh what a sight Building snowmen, and having some fun Sledding and skating, until the day is done Bundled up warm, feeling so cozy Hot cocoa and tea, oh it's so rosy Winter is a season, like no other Full of joy, and wonder!