Printable Scarecrow Craft Template: EASY Paper Scarecrow Craft Template Autumn Craft Activities For Preschoolers
Printable Scarecrow Craft Template: Autumn Craft Activities for Preschoolers
As the leaves start to turn brilliant shades of red, orange, and gold, there's an undeniable sense of enchantment in the air. Fall has arrived, bringing with it crisp breezes, cozy sweaters, and the perfect excuse for some creative crafting fun. If you're looking to infuse your autumn days with a dash of magic, look no further than our "Swinging Scarecrow Craftivity."
Unveiling the Swinging Scarecrow Craftivity
Imagine a world where scarecrows swing gracefully amid a backdrop of colorful pumpkins, charming trees, and a quaint little house. This delightful craft project isn't just a feast for the eyes; it's an opportunity for children and adults alike to dive into the beauty of fall and explore their artistic side.
Why Choose the Swinging Scarecrow Craftivity?
Celebrating the Season: Fall is a season of transformation, where nature paints a vivid landscape of change. The Swinging Scarecrow Craftivity captures the essence of this season, allowing you to celebrate its beauty in your own creative way.
Endless Creativity: This craftivity isn't just about following instructions; it's about letting your imagination soar. With scarecrows to decorate, pumpkins to color, and trees to bring to life, there are endless opportunities for creativity.
Educational Value: Beyond the artistic aspects, this craftivity offers educational benefits. It's a fantastic tool for teaching children about fall, the changing seasons, and even storytelling as they dream up adventures for their scarecrows.
Interactive Fun: The magic of this craftivity lies in its interactive design. Crafters will assemble a unique swinging scarecrow scene that adds an extra layer of excitement to the creative process.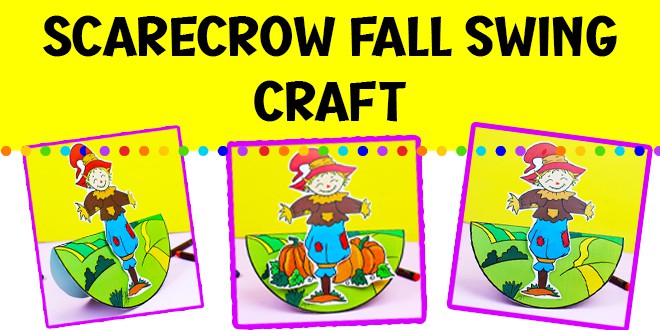 | Feature | Benefits |
| --- | --- |
| Celebrating the Season | Embrace the beauty of fall in a creative way. |
| Endless Creativity | Customize scarecrows, pumpkins, and more. |
| Educational Value | Teach about fall, seasons, and storytelling. |
| Interactive Fun | Create a unique, swinging scarecrow scene. |
| Materials Included | Templates, circle base, and step-by-step guide. |
| Suitable for All Ages | Adaptable for various age groups. |
| Instant Digital Download | No waiting; start crafting right away. |
| Display with Pride | Showcase your masterpiece in style. |
Getting Started
Getting started with the Swinging Scarecrow Craftivity is a breeze. Here's a quick overview of the steps involved:
Step 1: Materials Gathering Before you begin, gather all your materials. You'll need the provided templates, coloring materials, scissors, glue, and a sense of adventure.
Step 2: Coloring Extravaganza Unleash your inner artist as you color the scarecrow, pumpkins, trees, and house templates. Use warm autumn hues to make your creation truly captivating.
Step 3: Precision Cutting Carefully cut out each decorated template along the edges to ensure a neat and precise finish.
Step 4: The Assembly Now, it's time to assemble your swinging scarecrow scene. Apply glue to attach the elements to the folded circle base, arranging them to your liking.
Step 5: The Magic Unfolds Fold the circle base along the line to create a half circle, with your scarecrow scene on the outer side. Hold it by the top and gently tap the bottom to watch your scarecrow swing to life. The enchantment of autumn comes alive before your eyes!
Display and Share
Once your Swinging Scarecrow Craftivity is complete, proudly display it in your classroom, home, or wherever you desire. Share your masterpiece with friends and family to spread the joy of the season.
Conclusion
In a world filled with screens and digital distractions, the Swinging Scarecrow Craftivity offers a chance to unplug, unwind, and reconnect with the beauty of the fall season. Whether you're a teacher looking to inspire creativity in your students or a parent seeking a memorable bonding activity, this craftivity is your ticket to crafting autumn magic.
So, why wait? Download the Swinging Scarecrow Craftivity today and embark on a journey of creativity and enchantment this fall season. It's time to swing into the magic of autumn with a craft that's as unique as the season itself.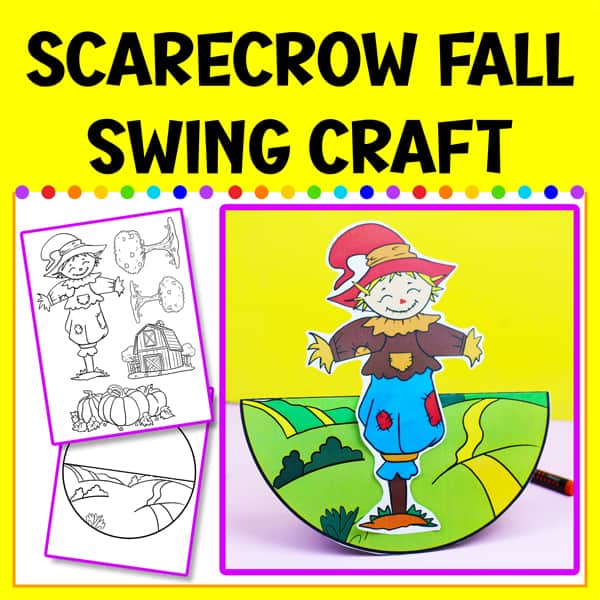 The following are free grade 1 children's stories and comprehension worksheets. Each passage is followed by comprehension questions and amazing coloring pages that are related to the topic.