Are you looking for some Free Printable First Grade Reading Comprehension Worksheets? if so, you are in the right place.
First-grade reading comprehension passages can be a useful tool in helping children improve their reading skills, particularly their reading comprehension skills. Reading comprehension is a critical skill that is essential for academic success and lifelong learning. However, not all children find reading easy, and some may struggle with reading comprehension. This can have a long-term impact on their academic success.
Free Printable First Grade Reading Comprehension Worksheets
Reading comprehension passages are short texts that children read and answer questions about. They are graded by difficulty level, with first-grade passages being suitable for children who are just starting to learn how to read.
Reading comprehension passages can help children develop and improve their vocabulary, critical thinking, and reading speed. There are many resources available online where parents and teachers can find first-grade reading comprehension passages, such as what we provide here in our blog: bestenglishpages.com
Using reading comprehension passages with children is pretty easy and amusing. teachers or parents can choose a reading passage that is suitable to their student's reading level, read it aloud to them, or have them read it themselves. Then they can ask questions about the passage to help the child think critically about what they have read.
Discussing the child's answers with them and encouraging them to explain their reasoning can help improve their comprehension skills.
In addition to employing reading comprehension texts and passages, tutors can also read with their children, practice phonics, use colorful flashcards, set aside time for reading, and use technology to help their children improve their reading skills.
Yet, there are signs that a child may be struggling with reading comprehension including difficulty understanding what they are reading, slow reading speed, and avoiding reading altogether.
Children can start practicing reading comprehension passages as early as kindergarten, but it is recommended that they practice for at least 20 minutes a day, several times a week.
On bestenglishpages.com, reading comprehension passages will be available for children of all ages and can be helpful for improving reading skills at any level.
First-Grade Reading Comprehension Worksheets
Reading Worksheets for First Graders Grade 1 Reading Comprehension
You may ask this question: what are the main advantages of using Free Printable First Grade Reading Comprehension Worksheets?
In fact, reading comprehension is a critical skill that is indispensable for children to master during their early years of education.
It requires the ability to comprehend, interpret, and make sense of written texts, which is particularly vital for first graders because it establishes the groundwork for future academic triumphs. To improve the reading comprehension skills of first graders, one effective method is the use of worksheets.
Indeed, printable worksheets offer an interactive and fascinating way to help reinforce the concepts that children should learn in the classroom.
What is more, free printable worksheets are easily accessible, making them a convenient tool for both parents and educators.
The Importance of Reading Comprehension in First Grade
1st-grade reading comprehension passages provide a wide range of benefits for young learners. Here are some of the fundamental advantages of using these passages:
Improved Reading Skills: Reading comprehension passages help children improve their reading skills by exposing them to a variety of texts and teaching them how to read, comprehend, and retain information.
Increased Vocabulary: Reading comprehension passages expose children to new words and concepts, which can help them expand their vocabulary and improve their communication skills.
Better Comprehension: By answering questions about the passages they read, children learn how to comprehend and interpret the information they have read, improving their overall comprehension skills.
Increased Focus: Reading comprehension passages require children to focus on the text and actively engage with the material, helping to improve their concentration and focus.
Tips for Using Printable Worksheets to Teach 1st graders Reading Comprehension
Now that we know the benefits of using 1st-grade reading comprehension passages, let's take a look at how you can use them to help your child improve their reading skills:
Choose age-appropriate passages: Make sure you choose reading comprehension passages that are appropriate for your child's age and reading level.
Read the passage aloud: Read the passage aloud to your child, highlighting any new words or concepts they may be unfamiliar with.
Encourage active reading: Encourage your child to actively engage with the material by underlining or highlighting key information and taking notes.
Ask questions: After reading the passage, ask your child questions about the text to test their comprehension.
Use visual aids: Use visual aids such as pictures or diagrams to help your child understand complex concepts.
Make it fun: Use games, rewards, and incentives to make the learning process more enjoyable and engaging for your child.
Resources for 1st-Grade Reading Comprehension Passages
There are many resources available to help you find and use 1st-grade reading comprehension passages.
Bestenglishpages.com offers a wide range of free reading comprehension passages and worksheets to print for 1st-grade students.
We have put together a set of free first grade reading comprehension worksheets that will challenge and excite young readers while helping them learn.
Reading Comprehension Passages about Zebras
At Best English Pages, we understand the importance of engaging young readers with interesting and informative material, which is why we have designed our reading comprehension activity to be both educational and entertaining.
Our printable activity is perfect for introducing children to the world of zebras, one of the most beloved animals in the animal kingdom. Through our simple yet informative reading passage, children will learn about the distinctive black and white stripes of zebras and their wild world.
Our activity also includes a set of multiple-choice questions that will test children's comprehension of the reading passage, helping them to develop important critical thinking skills that will serve them well throughout their academic careers.
But that's not all! Our activity also features three fun and engaging coloring pages that will help children to reinforce the concepts they've learned in the reading passage. These coloring pages are sure to delight and entertain.
At Best English Pages, we're proud to offer this high-quality, free printable activity to teachers and homeschooling parents. We believe that every child deserves access to engaging and informative educational resources, and we're committed to providing these resources to as many young learners as possible.
So why wait? download our free printable reading comprehension activity about zebras, and start engaging your students or children with the fascinating world of these beautiful animals.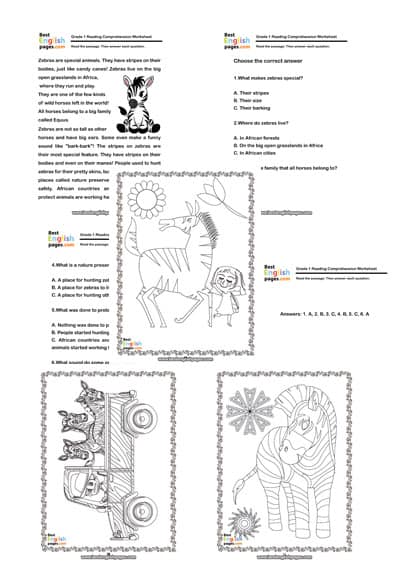 Reading Comprehension Passage about The Tidy Twins
Looking for a fun and educational activity for your 1st graders? Look no further than our free printable reading comprehension activity featuring "The Tidy Twins"! This activity is perfect for both teachers and homeschooling parents who want to help their students improve their reading skills while also having fun.
Our activity includes a reading passage in simple language that is easy for young readers to understand. After reading the passage, your students can test their comprehension with a series of true or false questions that will help them practice critical thinking skills. And to make the activity even more engaging, we've included three fun coloring pages that your students can color in their spare time.
Best of all, our activity is available as a free download from our website, Best English Pages. Simply download the PDF, and print it out for your students. It's that easy!
At Best English Pages, we understand how important it is to provide children with engaging and educational activities that will help them succeed in school and in life. That's why we're committed to providing high-quality resources that are both fun and effective. So why not give "The Tidy Twins" a try today? Your students will thank you!