Rhyming Words for Kids : Rhyming Words for Kindergarten
People might ask the following questions: What are rhyming words for kindergarten? How do you explain rhyming to kindergarten? What is the definition of rhyming words? How do you explain rhyming to a child? How do you introduce rhyming words to kindergarten?
Below is a Complete list of Kindergarten rhyming words you can introduce to preschoolers. Also, you can download a beautiful poster of the " One, two buckle my shoe" rhyme.
Kindergarten Rhyming Words List: Words That Rhyme With Ow
| | |
| --- | --- |
| Bow | Cow |
| How | Brow |
| Wow | Pow |
| Now | Row |
| Sow | Vow |
Words That Rhyme With Op
Words That Rhyme With Og
Bog
Log
Frog
Blog
Cog
Jog
Clog
Dog
Fog
Hog
Words That Rhyme With At
| | | |
| --- | --- | --- |
| Cat | Hat | Mat |
| Flat | Vat | Rat |
| That | Slat | Sat |
| Bat | Pat | Splat |
| Fat | Chat | Brat |
Words That Rhyme With Ow
Words That Rhyme With Aw
Awe
Caw
Claw
Saw
Draw
Thaw
Flaw
Straw
Paw
Raw
Words That Rhyme With Id
| | |
| --- | --- |
| Kid | Did |
| Grid | Squid |
| Rid | Lid |
| Skid | Hid |
| Slid | Mid |
| Sid | Bid |
Words That Rhyme With Ay
Words That Rhyme With An
| | |
| --- | --- |
| Man | Can |
| Span | Plan |
| Tan | Ban |
| Flan | Van |
| Ran | Scan |
| Fan | Pan |
Words That Rhyme With Ot
Words That Rhyme With Ig
| | |
| --- | --- |
| Dig | Rig |
| Wig | Brig |
| Twig | Pig |
| Gig | Swig |
| Big | Fig |
Words That Rhyme With Od
Words That Rhyme With Ab
| | |
| --- | --- |
| Crab | Lab |
| Nab | Grab |
| Cab | Dab |
| Fab | Tab |
| Slab | Jab |
| Drab | Flab |
Words That Rhyme With Op
Words That Rhyme With Ip
| | | | |
| --- | --- | --- | --- |
| Hip | Clip | Ship | Dip |
| Tip | Lip | Flip | Grip |
| Nip | Trip | Drip | Kip |
| Slip | Pip | Sip | Zip |
| Skip | Rip | Chip | Snip |
Words That Rhyme With It
Words That Rhyme With Ad
| | |
| --- | --- |
| Pad | Dad |
| Lad | Had |
| Bad | Add |
| Rad | Sad |
| Mad | Fad |
| Clad | |
Words That Rhyme With In
Words That Rhyme With Ew
| | | | |
| --- | --- | --- | --- |
| Blue | Chew | Drew | New |
| Cue | Shoe | Glue | Who |
| Crew | Shoo | Do | Blew |
| Dew | Brew | Clue | View |
| Threw | Knew | Phew | True |
| Grew | Through | Stew | Flew |
| Zoo | You | Ewe | Two |
Words That Rhyme With Et
Words That Rhyme With All
| | |
| --- | --- |
| Call | Tall |
| Ball | Mall |
| Gall | Fall |
| Shawl | Thrall |
| Wall | Hall |
Words That Rhyme With Ar
| | |
| --- | --- |
| Bar | Jar |
| Star | Ajar |
| Tar | Scar |
| Car | Far |
| Guitar | Are |
Words That Rhyme With Ag
| | |
| --- | --- |
| Nag | Bag |
| Flag | Gag |
| Hag | Sag |
| Drag | Wag |
| Tag | Rag |
Words That Rhyme With En
Words That Rhyme With Am
| | |
| --- | --- |
| Jam | Gram |
| Ram | Dam |
| Lamb | Slam |
| Cram | Clam |
| Spam | Tram |
| Ham | |
Words That Rhyme With Ap
| | |
| --- | --- |
| Map | Snap |
| Clap | Gap |
| App | Lap |
| Slap | Cap |
| Nap | Scrap |
| Rap | Flap |
| Trap | Tap |
| Snap | Strap |
Words That Rhyme With Ell
Rhyming Words for Kindergarten list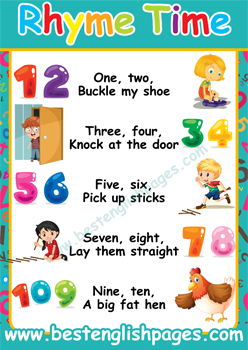 You might also like: Rhyming Words : 150+ Most Popular Words that Rhyme in English + Free Poster