Rhyming Words in English. List of rhyming words. Learn 150+ useful words that rhyme in English with Free ESL printable infographics.
What Are Rhyming Words?
Rhyming words are two or more words that have the same sound or end with similar ending sounds. For examples
Near rhymes with sky are: why, buy, dry, high, tie, my, eye, sky,
Words that Rhyme in English : The most popular rhymes in the English language

What is rhyming words list? Rhyming Words List
Here is the list of 150+ words that rhyme in English.
Again: men, ten, then, when
All: ball, call, doll, small, soul, tall, wall, curl, girl, fall, mall, roll , world
Alone: flown, phone, stone, home, own,
Back: crack, hack, pack, attack, black, track.
Bag : rag
Ball : fall , Tall
Bear : bare, hare
Believe : leave, eve, live
Best : chest, rest, test, west, crest, quest
Better: matter
Bird :heard
Blew : blue
Boat : coat , float
Body : party, beauty, dirty
Book: cook, brook, hook, look, took
Bore : roar, four
Boy : joy, toy, destroy, employ, enjoy
Bridge : fridge
Caller : taller
Care : wear, where, bear, hair, pair, share, square, there
Cat : sat, bat
Cave : gave, save
Chance : hands, romance, sense, tense, dance, ends, fans, France, friends
Change : range, strange
Child : mild, wild, smiled,
City

 : pretty

,

duty, kitty, pity

Cold : sold, told, want, gold, old, rolled
Cool : full, pool, stool, tool, wool, rule, school
Cook : look, hook
Cow : how, now
Crazy : easy, lady, lazy, maybe, amazing, baby
Day: away, hay, clay, lay, may, replay, say, okay, pay, play, relay, deejay, delay display, grey, hey, stay, they, today, way
Days : daze
Dish : wish
Down : brown,frown, town, clown, crown
Dream : been, beam, extreme, supreme, green, marine, scream, between, cream, screen, steam, stream, swim, team, teen, theme
Eight : skate
Eyes : dies, prize, guys, ice, lies, nice, price, slice, sunrise, surprise, twice.
Face : case, lace, place, race, space, face
Fine : combine, design, line, mine, dine, divine, nine, shine, sign, time, vine
Fire : desire, flyer, higher, inspire, entire, admire, denier, fighter, flower, liar, power
Flash : crash, splash, trash, hash, mash, smash
Flee : flea
Forever: ever, never, together
Four: door
Friend: end, hand, land, band, send, spend, stand, defend, descend, depend, trend, understand
Future: nature, picture
Game : became, came, claim, frame, name, same
Go: ago, blow,know, no, oh, show, slow, bellow, flow, glow, grow, hello, snow, so, throw
God: blood, flood, mud
Good: could, should, foot,would, hood, mood, shoot, stood, wood
Happen : happy, heaven, seven
Happy : nappy, sappy
Hate : gate, great, late, locate, state, wait, create, date, eight, fate
Head : bed, dead, had, red, said, bread
Heart: chart, part, smart, apart, art, cart, start
Hell : bell, tell, sell, smell, well, shell, fell
Here: clear, fear, fever, dear,
Hero : zero
Hide : tide, wide
Hill : will, kill, ill
Hole: mole , stole
Hop : pop
Hot : not, cot
Hurt: alert, a lot, forgot, hot, jackpot, not, slot, shot, comfort, desert, dot,
I : ye, fly, goodbye, shy, sky, tie, try, why, guy, high, buy, by, bye, cry, defy, deny, die, dry, e inside, lie, my, pie, side, sigh
In : been, begin, between, seen, skin, clean, green, keen, mean, queen
It: admit, bit, fit, grit, sit, split, hit, knit, meet,
Kick: pick, lick
Jump : bump, lump
Let : debt, yet, forget, net, set, sunset
Level : devil
Life : alive,  dive, rife, strife, wife, drive, five, knife
Lip – chip, deep, equip, keep, ship, skip, sleep, sweep, hip, jeep
Love – above, dove, enough, glove, of, off, shove, staff, tough, half, laugh
Made: maid
Main : pain
Make : cake
Man : can, fan, ran.
Map : sap, lap
Me : be, fee, free, see, she, we, key, tea, tree, sea
Meet : greet
Mind : behind, declined, divined, find, kind, remind, signed, defined, designed
Moat: goat
Money : bunny, mummy, sunny, funny, honey
More : bore, door, floor, score, store, for, four
Much : such, touch
Need : beat, feed, speed, street, sweet, weed, kid, meet, seat, sheet
News : blues, shoes, confuse, muse
Night : bite, tight, tonight, white, bright, flight, height, knight, might, light, delight, fight, right, sight, slight,
Nine: twine
Now: allow, how, low
One : anyone, done, run, sun, fun, gone, none, gun, won
Out : about, ground, shout, around, cloud, doubt, sound, without
Over : clover, cover
Owl : towel , growl
Pail: pale
Pain: brain, in vain, lane, main, plain, rain, train, campaign, champagne, complain, explain
Peace : piece
Pen : men
Pet : met
Read : red
Real : deal, steel, still, feel, hill
Reason : frozen, season
Red : bed, said
Reign: rain
Rent: present, sent, tent, prevent
Respect : connect, expect, reflect, select, correct, direct, effect, suspect
Rig : dig
Right: kite, height
Rock : chalk, hawk
Sand : band
Seed : feed, weed
Self : brave, save, wave, gave, help
Seven : heaven
Sheet : feet
Six: sticks
Skip : drip, lip
Sing : wing, king
Smile: aisle, mile, style, I'll, isle, vile, while
Soon : moon
Star: are, far, guitar, bar, car
Stop : top, drop, shop, cop, pop
Take: brake, make, shake, snake, cake, fake, lake, wake
Ten: hen
That: bad, cat, glad, mad, sad, dad, fat, flat
Thing: bring, ring, sing, spring, sting, king, nothing
This : assist, kiss, miss, peace, bliss, consist, exist, insist, resist
Time : I'm, fine, lime, mine, climb, clime, crime, rhyme
Tomorrow: shadow, fellow swallow, window, yellow
Two : shoe
Three : tree
Truth : smooth, sooth
Very : vary
Walk : block, shock, talk, lock, rock
Well : sell, tell
Win : bin
Wit : hit, sit
Wool : fool
Word: award, record, scored, stored, third, accord, bird, board
Worry :hurry, sorry
Write : right
Wrong : along, song, strong, belong, long,
You : adieu, blue, knew, blew, dew, rescue, shoe, view, do, few, ooh, threw, through, to, too, two, true, who, zoo.
Words that Rhyme : Top Ten Rhymes in English
Words that Rhyme with You : The Word "You" Rhyme
blew
brew
clue
due
new
glue
cue
hue
too
threw
sue
flu
shoe
few
do
queue
two
zoo
who
slough
Words that Rhyme with Me : The Word "Me" Rhyme
be
fee
knee
pea
free
three
flee
tree
we
sea
any
key
ski
flea
gee
thee
Words that Rhyme with Love : The Word "Love" Rhyme
glove
dove
shove
of
above
belove
hereof
thereof
hereinabove
whereof
Words that Rhyme with Life: The Word "Life" Rhyme
wife
Eif
fife
strife
elife
Words that Rhyme with Time: The Word "Time" Rhyme
chime
thyme
climb
dime
lime
crime
i'm
mime
prime
rhyme
slime
Words that Rhyme with Day: The Word "Day" Rhyme
bay
way
stray
stay
may
lay
grey
pray
say
pay
play
ray
hey
Words that Rhyme with World: The Word "World" Rhyme
swirled
purled
hurled
whirled
furled
burled
Words that Rhyme with Heart: The Word "Heart" Rhyme
part
smart
tart
chart
start
art
quart
cart
Words that Rhyme with Heart: The Word "Heart" Rhyme
bow
cow
wow
sow
dow
row
vow
brow
Rhyming Words with Up / Up Rhyming Words
sup
pup
cup
corrupt
dup
whup
grownup
Good Rhyming Words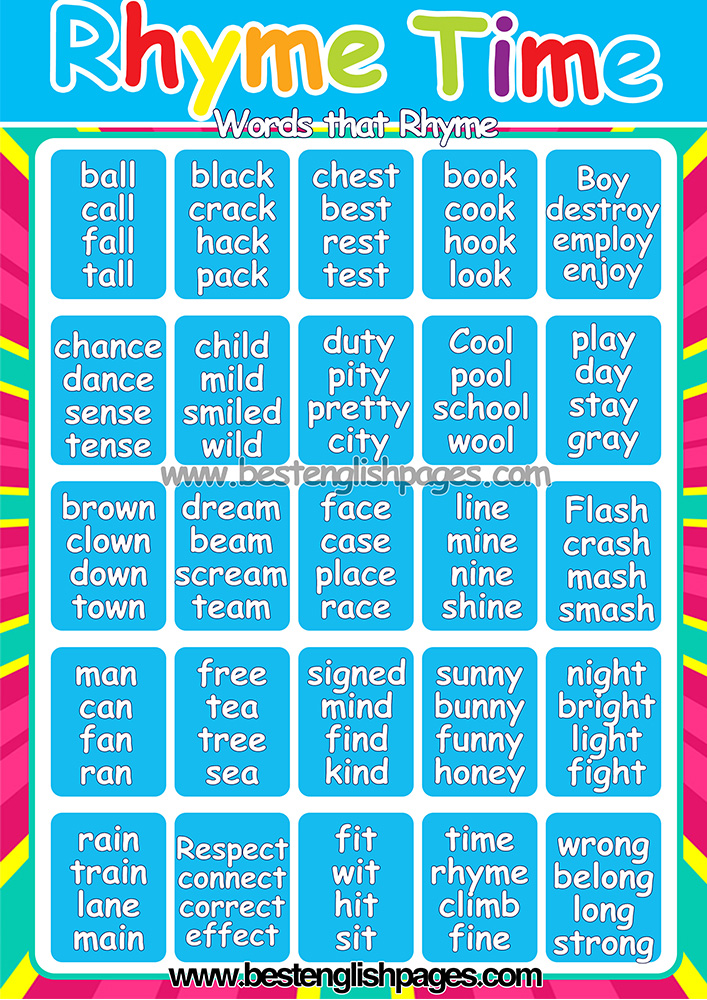 You Might also like:
Yellow Fruits: List of 40+ Yellow Fruits & Vegetables with FREE ESL Printable Posters to Download
Four Seasons of The Year : Best FREE ESL Printables 4 Seasons of the Year