With their fascinating colorful feathers and amazing flying abilities, birds are considered to be among the most familiar animals to people of all other animal species. We can find and watch birds all around us while they look for food, or build their nests to raise their young. So, some people may ask: what are birds names in English?
As a whole, There are more than 10,000 bird species most of which are diurnal that to say is active during the day. However, there exist some kinds of birds that are nocturnal, which means they are active during the evening hours like owls. Other types of birds feed either night or day as needed. Among birds we can mention:
Parrots and cockatoos
Storks, ibises, and herons
Flamingos
Ostrich
Wildfowl
Hummingbirds and swifts
Penguins
Birds of prey
Pigeons and doves
Owls
Kingfishers and relatives
Passerines
As a general rule, birds are the most varied animal groups in the world. Birds share some common skills and traits, but they may behave differently from each other. For instance, Shared characteristics of birds may include:
Birds are warm-blooded
Birds are vertebrates
Birds' bodies are covered with feathers
Birds lay eggs
Birds have hard beak with no teeth
Most birds can fly
What Are Birds Names in English? List of Birds
If you are looking for a comprehensive, proper and definite answer to this question: what are birds names in English? you are in the right place. In this article, you will find an interesting large list of birds names sorted by different birds' types and categories. In this article, you will also discover some common as well as certain rare types of birds illustrated with beautiful infographics.
What Are Birds Names in English? birds name list
As a whole categorizing and classifying various types of birds is mainly based on major physical features, and some other internal processes and behaviors. This is a list of the principal birds' classification:
Tinamous
Kiwis
Osrtiches
Rheas
Gamebirds
Penguins
Divers
Cassowaries and Emus
Waterfowl
Grebes
Albatrosses and Petrels
Storks and Herons
Flamingos
Pelicans and Relatives
Birds of prey
Sandgrouse
Waders, Gulls, and Auks
Cranes and Relatives
Pigeons and Doves
Owls
Cuckoos and Turacos
Parrots
Nightjars and Frogmouths
Mousebirds
Swifts and Hummingbirds
Trogons
Passerines
Kingfishers and Relatives
Woodpeckers and Toucans
What Are Birds Names in English? Birds Name List A to Z
There are several well-known birds that cannot fly, namely the ostrich, penguin, kiwi, and now extinct Dodo. The following list of birds compiles some of the most common as well as the rarest birds types. This is a huge list of birds but please take into consideration that this list does not include all bird names that exist.
Download Birds Names Inphographic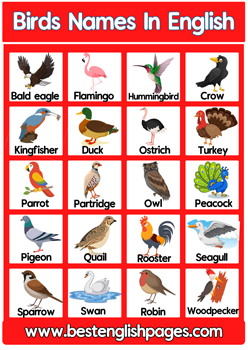 Names of Birds A to B
Adelie penguin
African fish eagle
African gray parrot
African harrier hawk
African pygmy falcon
American black vulture
American cliff swallow
American coot
American harpy eagle
American redstart
American robin
American swallow-tailed kite
Andean Condor
Anhinga
Arctic tern
Atlantic puffin
Bald eagle
Bananaquit
Bank swallow
Barn owl
Barn swallow
Bateleur
Bee hummingbird
Belted kingfisher
Black-billed magpie
Black-browed albatross
Black-capped chickadee
Black-crowned night heron
Black-headed gull
Black-winged stilt
Black heron
Black skimmer
Black tern
Black woodpecker
Blackbird
Blue-and-yellow macaw
Blue-footed booby
Blue tit
Boat-billed heron
Bohemian waxwing
Broad-billed hummingbird
Brown creeper
Brown pelican
Brown skua
Budgerigar
Burrowing owl
Names of Birds C to F
Canada goose
Carrion crow
Cattle egret
Chaffinch
Chiffchaff
Cockatiel
Common eider
Common grackle
Common guillemot
Common kestrel
Common loon
Common nighthawk
Common peafowl
Common pheasant
Common quail
Common snipe
Common tailorbird
Common yellowthroat
Cooper's hawk
Corncrake
Crab plover
Dipper
Double-wattled
cassowary
Dovekie
Dwarf cassowary
Eagle owl
Eastern screech owl
Eclectus parrot
Egyptian plover
Egyptian vulture
Elf owl
Emperor penguin
Emu
Eurasian avocet
Eurasian buzzard
Eurasian cuckoo
Eurasian curlew
Eurasian kingfisher
Eurasian nuthatch
Eurasian oystercatcher
Eurasian robin
Eurasian sparrowhawk
Eurasian swift
Eurasian woodcock
European starling
Feral pigeon
Flightless cormorant
Names of Birds G to K
Galapagos ground finches
Goldcrest
Golden eagle
Golden oriole
Golden pheasant
Goliath heron
Gouldian finch
Gray-crowned crane
Gray heron
Gray partridge
Graylag goose
Great argus pheasant
Great black-backed gull
Great bustard
Great cormorant
Great crested grebe
Great curassow
Great gray owl
Great gray shrike
Great horned owl
Great Indian hornbill
Great spotted woodpecker
Great white pelican
Greater flamingo
Greater prairie chicken
Greater rhea
Greater roadrunner
Green jay
Guianan cock-of-the-rock
Gyrfalcon
Hamerkop
Harlequin duck
Hawfinch
Helmeted guineafowl
Herring gull
Hill mynah
Himalayan snowcock
Hoatzin
Hooded vulture
Hoopoe
House sparrow
Hyacinth macaw
Japanese crane
Kakapo
Kea
King penguin
King vulture
Kiwis
Kori bustard
Names of Birds L to P
Lammergeier
Lappet-faced vulture
Laughing kookaburra
Lovebirds
Luzon bleeding-heart
Macaroni penguin
Magnificent frigatebird
Mallard
Malleefowl
Mandarin duck
Manx shearwater
Marabou stork
Martial eagle
Mute swan
Namaqua sandgrouse
New Holland honeyeater
Nightingale
North American bittern
Northern cardinal
Northern flicker
Northern gannet
Northern goshawk
Northern harrier
Northern mockingbird
Northern pintail
Northern wheatear
Oilbird
Osprey
Ostrich
Ovenbird
Oxpeckers
Painted bunting
Palm cockatoo
Paradise whydah
Pel's fishing owl
Peregrine falcon
Pheasant coucal
Pheasant-tailed jacana
Names of Birds R to S
Raggiana bird of paradise
Rainbow bee-eater
Rainbow lorikeet
Raven
Razorbill
Red crossbill
Red Junglefowl
Red kite
Red-and-yellow barbet
Red-billed quelea
Red-breasted goose
Red-breasted merganser
Red-headed woodpecker
Red-tailed tropicbird
Red-winged blackbird
Reddish egret
Reed warbler
Rockhopper penguin
Rose-ringed parakeet
Ruby-throated hummingbird
Ruddy duck
Ruddy turnstone
Ruff
Rufous hummingbird
Sacred ibis
Sacred kingfisher
Saddle-bill stork
Satin bowerbird
Scarlet ibis
Screamers
Secretary bird
Shoebill
Short-toed snake eagle
Skylark
Slavonian grebe
Smew
Snail kite
Snow bunting
Snow goose
Snowy owl
Snowy sheathbill
Sooty tern
Southern giant petrel
Southern ground hornbill
Southern yellow-billed hornbill
Spotted nutcracker
Stone curlew
Sulphur-crested cockatoo
Sun bittern
Superb lyrebird
Swallow-tailed gull
Names of Birds T to Y
Tawny frogmouth
Tinamou
Toco toucan
Torrent duck
Trumpeter swan
Tufted duck
Tundra swan
Turtle dove
Verreaux's eagle
Victoria crowned pigeon
Village weaver
Wallcreeper
Wandering albatross
Water rail
Waved albatross
Weka
Western capercaillie
Western tanager
Whimbrel
Whippoorwill
White-fronted bee-eater
White stork
Wild turkey
Willow ptarmigan
Winter wren
Wompoo fruit dove
Wood duck
Wood pigeon
Wood stork
Wryneck
Yellow-billed cuckoo
What are some common names for birds? Common Bird Names with Pictures
What are some common bird names in English? Well, this list is about names of different types of birds That will help you to improve and reinforce your Birds vocabulary words in English with an ESL printable infographic.
List of Birds
Crow
Peacock
Sparrow
Ostrich
Pigeon
Hawk
Bald eagle
Parrot
Flamingo
Seagull
Swallow
Blackbird
Penguin
Robin
Barn Owl
Stork
Woodpecker

Wood Duck

Rooster
Vulture
Goose
Eagle
Hen
Falcon
Turkey
Hummingbird
Swan
Heron
Dove
Nightingale
Quail
Kite (bird)
American Goldfinch
Blue Jay
Partridge
Grey teal
White-cheeked pintail
Kingfisher
Rosy-billed pochard
Greater scaup
Black guineafowl
European Starling
Dark-Eyed Junco
Great Blue Heron
Herring Gull
Mallard
Northern Cardinal
Ring-Necked Pheasant
Pine Warbler
Red-Breasted Merganser
Stellar's Jay
Black-Capped Chickadee
European Blackbird
Download Bird Names Word Search