Depressed Meaning
Depressed synonyms:
very sad, unhappy, and without hope, usually for a long time because of an unpleasant or difficult situation that one cannot change.
Examples:
He has been feeling very depressed since the recent death of his father.
depressed about something:
She felt very depressed about losing her job
depressed at something
Jack was really depressed at the thought of getting back to his old job.
depressed over something
Emelia was depressed over the tragic death of her uncle.
depressed by something
Her father was depressed by the problems he is facing at work.
Synonyms of Depressed
| | | | | |
| --- | --- | --- | --- | --- |
| unhappy | sad | blue | forlorn | destroyed |
| dejected | desolate | gloomy | dispirited | miserable |
| crestfallen | upset | down and out | melancholy | tearful |
| teary | low-spirited | pessimistic | down in the dumps | spiritless |
| discouraged | in pain | disconsolate | melancholic | downhearted |
| heavy-hearted | down in the mouth | let down | low | in the pits |
| morose | not happy | lugubrious | in a blue funk | dragged |
| ripped | cast down | dismal | hurting | in the dumps |
| weeping | moody | despondent | down | on a downer |
| bummed out | glum | in the toilet | woebegone | crummy |
| grim | downcast | low-down | taken down | torn-up |
Other Words For Depressed
Other Words for Depressed with Meaning
dysphoric: depressed, heavy-hearted, melancholic
wistful: daydreaming, longing, dejected, depressed, homesick, longing, melancholic, melancholy, nostalgic, passionate, pensive, perfervid, plaintive, ruminative, sad, thoughtful, touching, in low spirits
under-a-cloud: bummed out, in pain, in the toilet, in a blue funk, taken down, cast-down, lowdown, low-down, on a downer, cast down, in the pits.
demoralized: broken, hopeless, vicious, wicked, perverted, more vanquished, more browbeaten, most humbled, most overpowered, more humbled, most crushed, most disheartened, most tamed, goner, irremediable, helpless, unachievable, past hope, beyond recall, no-win, in despair, hopeless, up the creek, irredeemable, unmitigable, shot down.
underprivileged: backward, deprived, humble, necessitous, needy, poor, simple-minded, unprogressive, disadvantaged, loser, underclass, underdog, depressed, wretch, impoverished, miserable, unfortunate.
lessened: decreased, depleted, diluted, diminished, lower, mended, reduced, short, watered, impaired, alleviated, decreased, detracted
dull: apathetic, backward, barren, behind, late, benumbed, bland, bleak, dreary, gloomy, blind, bloodless, blunt, blurry, bored, brooding, upset, careless, indifferent, cheerless, cloudy, colorless, dark, dark-hued; murky, darkish, dead, dense, depressed, gloomy, dim, dowdy, downcast, drab; quiet, dragging, dreary
deprived: bereft, disadvantaged, impoverished, restricted, void, sufferer
bummed: wretched, ill, wretched, aggravate, infirm, diseased, below par, rotten, down, indisposed, poorly, out of sorts, ailing, peaked, under the weather, afflicted, unhealthy, woozy, run-down, unwell, queasy
sunk: damaged, deep, despairing, desperate, done for, downcast, drowned, hopeless, reduced, undone, deepened, depressed, descended, deteriorated, disappeared, immersed
Synonyms of Depressed
despondent: dispirited, Drearisome, bummed-out, brokenhearted, at end of one's rope, melancholy, up against it, depressed, Fer, sick at heart, dejected, downcast, can't win, anguished, fatalistic, 
at end of rope, in the soup, down in dumps, dead duck, up the creek, no-win, heavy, back to the wall, mirthless, cheerless, dismal, flat tire, heavyhearted, running out of time, goner, Fest, draggy, down in mouth, 
mopy, let-down, irretrievable, morbid, in low spirits, downhearted, disappointed, no way, fe, in the doldrums, forlorn, in doldrums, blue, irrecoverable, no-way, in blue funk, pessimistic, long-faced, saturnine, miserable, no chance
disadvantaged: deprived, handicapped, needy, underdeveloped, underprivileged, disadvantaged, loser
weakened: adulterated, weak, damaged, decreased, dilute, tired, diluted, disabled, enfeebled, emasculated, demoralized, depleted, diluted, disabled, disadvantaged, enervated, exhausted, starving/starved, tired, tired out, uncovered, watered-down, reduced, flaccid, feeble, incapacitated
backward: blushful, in chaos, bottom-up, underachieving, bottom-side-up, contrariwise, late, self-controlled, afraid, retrospective, on head, coy, shying, not arrived, rear, eremitic, reluctant, demure, strapped for time, retardo, grody, imbecile, shy, rabbity, upside-down, over-modest, unsocial, 
Unaffable, downside-up, Everted. ill-conceived, unassured, poorly planned, cloddish, regressive, turned back, unexpansive, uneager, non-gregarious, mentally defective, loud-mouthed, 
lamebrained, inverted, half-baked, untutored, boneheaded, Unboastful, reserved, undeveloped, numbskull, slow, humble, overmodest, dumdum, reversed, diffident, hesitant, bashful, simple, vacillant, lacking confidence, 
lowered: cheap, diminished, ow-cost, moved, reduced, abase, belittle, bring down, cheapened, decreased, depressed, descended, discounted, lower, lowered
troubled: nervous, unbalanced, scaredy cat, butterflies in stomach, unprosperous, broken up, in a state, unpeaceful, not all there, over-wrought, unscrewed, unrestful, in clouds, in a panic, running scared, jellyfish, restless, not there, unfortunate, upset, in turmoil, doubtful, be set, palpitant, out of mind, 
on the qui vive, psyched-out, not following, obsessed, bothered, on thin ice, shook-up, out of luck, disturbed, let-down, grief-stricken, tipped over, in bad mood, touch and go, hot and bothered, feel in bones, shot to pieces, 
apprehensive, unconvinced, caught off balance, bundle of nerves, sick at heart, misfortunate, all nerves, in a stew, having blue devils, down and out, fatalistic, psyched out, hard-pressed, unsettled, sleepless, anxious, 
at wit's end, biting nails, insecure, changeful, without belief, of two minds, up set, ill-chosen, having the blahs, tossing and turning, perversive, in a dither, taken aback, clouded, have stage fright, infelicitous
humbled:sorrowful, debased, flabbergasted, felled, demure, impoverished, blushing, dishonored, impotent, Effaced, lowered, degraded, contrite, abased, sorry, dispirited, Lowed, anxious, penitent, cracked, scurvy, remorseful, obscurity, blighted, Disarmed, sheepish, downhearted, guilty, regretful, flustered, crestfallen, melted, broken in, set down, dishonored, got down, broke, housebroke, discontinuous, depressed
hollow: unexpressive, poker-faced, concave, non-committal, Hungering, campy, Resultless, depressed, idle, to no purpose, masklike, imprecise, moralistic, casuistic, no effect, double-dealing, unfurnished, without foundation,  artificial, unsinkable, out of line, to no avail, save one's breath, 
could eat a horse, hypocritical, out the window, on treadmill, specious, weak, floating, dog-hungry, not following, lusterless, futile, unhelpful, unloyal, affected
destitute: penniless, forlorn, buster, in default, unsocial, at one's feet, in power, left at the altar, rootless, in a bad way, unprovided with, down to last penny, Sans, in the gutter, oppressed, 
broke, Houseless, under one's thumb, parted from, itinerate, without a dime, lorn, bankrupt, out of, short of, on last leg, devoid of, in want, thrown over, out of gas, in need of, down and out, without a roof, at beck and call, in one's pocket, homeless, deprived, poor, used up
Depressed Synonyms
enfeebled: down with, sidelined, feeble, ailing, sick as a dog, halter, laid low, debilitated, infirm, effete, flaccid.anile, senile, sensile, senescent, feeling awful, old, weakly, in firm, housebound
impoverished:devoidof, underdeveloped, nonproductive, diluted, impecunious, broke, Unmoneyed, Unbearing, poor, bone dry, moneyless, buster, miserably poor, miserable, Beggared, Strapped, unfertile, out of funds, bad off, scurvy, non-productive, down and out, without a dime, played out, on the skids, impencunious, out of money, 
dry, destitute, in great need; financially poor, cleaned out, infertile, on the breadline,left without, on last leg, in the gutter, on the rocks, bereft, dirt poor, in the poorhouse, down-and-out, Infecund, hard up, in need of, stone-broke, barren, flat broke, uncultivable, deprived of, parted fromv
saddened:wistful, blueness, soft, meditative, downpat, precarious, lowpitched, moody, weighty, compunction, pestered, land, laden, painsensation, overthrow, laborious, plaintive, dim, bereaved, melancholiac, worthless, spicy, crushed, backbreaking, pourdown, dingy, unhinged, discontent, downwardly, despicable, touched, unhappiness, bluish, lowkeyed, laboured, dysphoric, nettled, enceinte, overturn, disgruntled, blueish, risque, forlornness, life-threatening, ungratified, humbled, tumpover, grueling, highrisk, discomfit, hapless, dreary, demoralize, injured, shivering, roiled, sincere, bluing, riotous, lamentable, dismayed, small, swage, profound, juicy, blunted, keen, go through, drooping, grave accent, dense, low-down, earnest, bring down, bereavement, first gear, naughty, tumultuous, downward, sagging, knockdown, greyed
downbeat: let-down, down in mouth, serious, down-in-mouth, torn up, melancholy, no fooling, bummed out, in the doldrums, come-apart, shot down, dispirited, caved-in, down in dumps, discouraged, bummed-out, down and out, in pain, solemn, mirthless, come apart, beat down, in blue funk, gone to pieces, beat-down, down in the dumps, in doldrums
indented: Asperous, alveolate, sawtooth, Snaggy, fallen-in, ridged, unlevel, carved out, caved-in, serrated, unfilled, sawtoothed, unsmooth, serriform, sawlike, serrulate, cup-shaped, Scored, depressed, hollow, jagged, Infundibular, deep-set, concave, not solid, sunken, denticulate, serried, troughlike, toothed
tristful: unhappy, melancholy, dejected, bleeding, spiritless, destroyed, despondent, hurting, bummed out, Dragged, in the dumps, heavy-hearted, down, weeping, torn up, ripped, dispirited, sad, low-spirited, down in the dumps, down in the mouth, grim, in a blue funk, low-down, in pain, low, wistful, bad, crestfallen, moody, 
blue, cast-down, desolate, gloomy, dull, pessimistic, let down, crummy, downcast, woebegone, down and out, glum, morose, in the pits, in the toilet, on a downer,taken down, fed up, dysphoric, lugubrious, melancholic, downhearted, disconsolate
dismayed: beat down, anguished, downhearted, stupefied, thunderstruck, broken up, upset, in turmoil, unglued, stunned, downcast, faint-hearted, over-wrought, tipped over, down in mouth, awestruck, in blue funk, shocked, down-in-mouth, psyched out, aghast, scared stiff, buffaloed, discouraged, palpitant, run scared, gone to pieces, percussive, panicky, scared to death, caved-in, all nerves, in awe, dumbfounded, on the qui vive, blown away, taken aback, beat-down, horror-struck, come-apart, frightened, come apart, all torn up, terror-stricken
Other Words for Depressed or Sad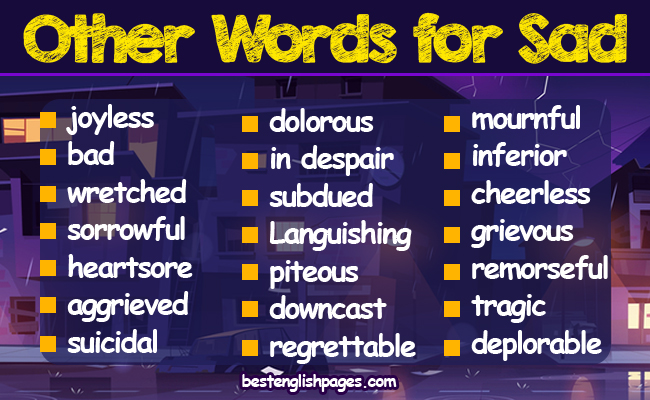 Sad Synonym / Synonyms of Depressed
| | | | | |
| --- | --- | --- | --- | --- |
| joyless | grim-faced | cheerless | sorrowful | low-down |
| torn-up | grievous | downhearted | discouraged | sick at heart |
| in despair | in a bad mood | pitiful | drear | regrettable |
| out of spirits | mournful | grief-stricken | full of sorrow | lamenting |
| dolorific | demoralized | heartbroken | miserable | unpromising |
| lowdown | beat-down | hurt | downcast | at end of one's rope |
| subdued | lamentable | sorry | pessimistic | inferior |
| frail | piteous | remorseful | tragic | low key |
| weeping | in sorrow | guilt-ridden | cold sober | dreary |
| despairing | heavyhearted | anguished | disconsolate | grousing |
| long-faced | dejected | draggy | Languishing | deplorable |
Depressed Synonyms
Antonyms of Depressed : Opposite of Depressed
gladsome,
gleeful,
happy,
joyful,
joyous,
jubilant,
sunny,
upbeat,
bloated,
careless,
sprightly,
protrusive,
bulbous,
extended,
advantaged,
lighthearted,
devil-may-care,
peppy,
carefree,
privileged,
comfortable,
zippy,
cavalier,
risen,
ballooning,
expanded,
springy,
sprightful,
protruding,
coddled,
jaunty,
jolly,
gratified,
getting a break,
gut-busting,
well-suited,
co-operative,
befitting,
pleasureful,
full of zip,
overjoyed,
thick,
global,
energetic,
easygoing,
enlarged,
spirited,
insouciant,
rosy,
animated,
globular,
sanguine,
puffed.
blissful,
buoyant,
buoyed,
cheerful,
cheery,
chipper,
delighted,
glad,
gladdened,
favorable,
auspicious,
just,
well-timed,
optimistic,
rapt,
carried away,
propitious,
suitable,
on the button,
rollicking,
beatific,
Unimpressible, 
carefree,
lighthearted,
congenial,
chirpy,
on top,
blithesome,
buddy-buddy,
lucky,
fitting,
boffo,
lucky-dog,
self-pleased,
lively,
complacent,
at peace,
airy,
ready,
enchanted,
campy,
grooving,
fortunate,
lovely,
screamer,
golden,
shatterable,
Infatuating,
entertaining,
beaut,
scrumptious,
glorious,
toothier,
pre-eminent,
sweet,
comfortable,
beautiful,
delicious,
Cher,
fascinating,
Unpresumptuous,
lots of laughs,
lulu,
adorable,
amiable,
pleasing,
luckiest,
toothsome,
satisfying,
Recreative,
Saporific,
right neighborly,
Shattery,
good-tempered,
well-prepared,
sugar-coated,
recherche,
simpatico,
fracturable,
cute,
fragrant,
heavenly,
world-class,
good-tasting,
Splendorous,
luckier,
pleasant,
delicate, elated,
exhilarated
encouraged,
heartened
delighted,
gratified,
pleased
boosted,
elevated,
lifted,
uplifted
sweet-tempered,
fine and dandy,
just for laughs,
congenial,
drop-dead,
inviting,
welcome,
Re-creative,
fine-grained,
grateful,
nice,
centerfold,
Other Antonyms of Depressed
first-class, Larking, dainty, looking good, gleeful, floating on air, elated, having fun, loving it, tickled pink, under a spell, overjoyed, sold on, gratified,
fit for king, gasser, jovial, be coming, Relishable, co-operative, charming, enjoyable, world-class, rioter, Aperitive, amusing, delish, chirpiest, gorgeous, gagged up, festive, effervescent, frolicsome,  riproaring, jocular, floating on air, jokey, warm, good enough, vivacious, serendipitous, Disimpassioned, regular fellow, pat, convivial, 
keeping the faith, screamer, chirpiest, carnivalesque, Conversable, pleased, Tickled, hit it big, that's the ticket, opportune, into something, Beseeming, PERF, zestful, Larking, campiest, be coming, heart-to-heart, buoyant, looking on the bright side, luck in, gala, backslapping, red-carpet
, for grins, fit, gladsome, glad-handering, chirpier, palmiest, in the groove, out front, rose-colored,  prosperous, dexter,  back-slapping, holding aces, fortuitous, prizewinning, can't complain, zesty, amical, debonair, Conversible , halcyon, lots of laughs, right neighborly, well-chosen, laid back, campier, looking good, tickled to death, celebratory, looking on bright side, comfortable, successful, 
all systems go, coltish, willing, go-go, in high spirits, having fun, entertained, zingy, clubby, well, befitting, palmy, coming up roses, cordial, looking through rose-colored glasses, self-contented, unexcited, psyched up, enjoying oneself, just what was ordered, well-chosen, luck out, golden, on top of world, felicitous, in the lead, mirthful, 
Other Words For Depressed Free Printable Poster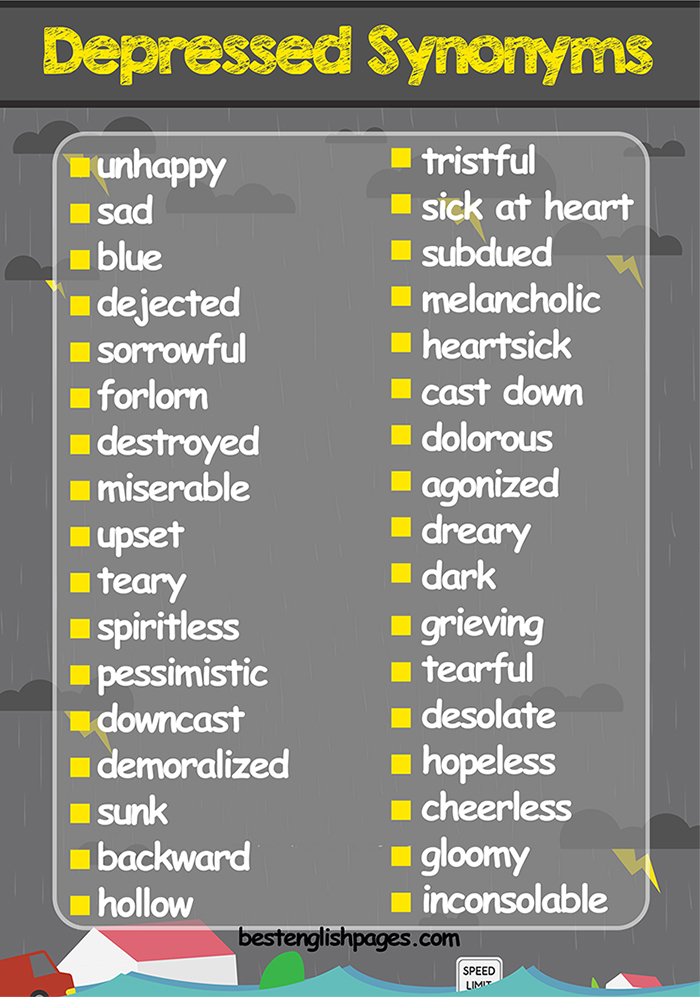 You might also like: Best List of Positive Adjectives that Start with H + FREE Printable Poster: 62 + Adjectives that Start with H