You have reached this interesting post as you might be among those who have asked the following questions: How would you describe autumn? What words are associated with autumn? What are words to describe autumn? What is a fancy word for autumn? How would you describe an autumn scene? What are adjectives about fall? Autumn words A to Z? What words describe autumn? beautiful words for autumn? What do you call autumn leaves? What are good words for fall? if so, you have come to the right place.
Autumn ( also fall in The USA) is the season between summer and winter. It is the season when leaves fall from trees. It is also the season when the days get shorter and colder. The Autumn season is a period of maturity as well as a time of incipient decline when everything turns brown and dull.
Some terms and words related to Autumn are:
amber
cozy
crunching
autumn
chilly
autumnal
rustling
scarlet
bounty
red
brown
cold
flannel
seasonal
temperate
yellow
foliage
nippy
orange
russet
scenic
In general, there are various words and phrases to describe autumn or fall in English. In this article, you will discover an excellent compilation of autumn words and phrases that will help you illustrate and describe delightful activities, autumnal weather, and the overall wonderful mood of the fall/autumn season.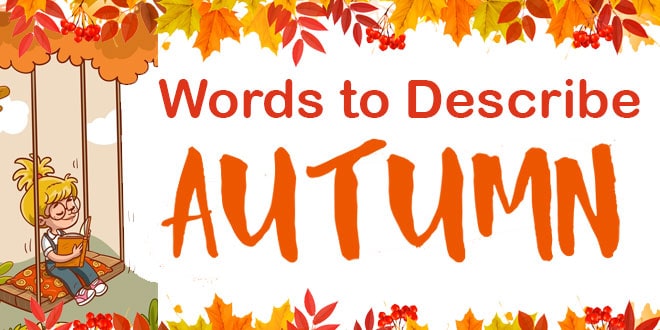 What Are Words to Describe Autumn? Autumn Words A to Z
Autumn Words Starting with "A"
acorn
activity
almond
amber
apple
apple cider
apple pie
autumn
Autumn Words Starting with "B"
Autumn Words Starting with "C"
candy
chestnut
chilly
cobweb
Columbus Day
competition
corn
corn maze
costume
cranberry sauce
crops
Autumn Words Starting with "D"
Autumn Words Starting with "E"
earthy
education
election
enchanting
enjoyable
equinox
eggplant
Autumn Words Starting with "F"
Autumn Words Starting with "G"
game
ghost
ginger
golden
gourd
grain
grasshopper
gray
gusty
gymnastics
geese
Autumn Words Starting with "H"
Autumn Words Starting with "I"
Indian summer
inspirational
insects
Autumn Words Starting with "J"
Autumn Words Starting with "K"
Autumn Words Starting with "L"
Autumn Words Starting with "M"
magnificent
maze
maple
mask
Mayflower
migrate
migration
months
moonlit
mushrooms
Autumn Words Starting with "N"
Autumn Words Starting with "O"
October
open house
orange
orchard
outside
overgrown
owl
Autumn Words Starting with "P"
Autumn Words Starting with "Q"
quilt
quarterback
queen bee
Autumn Words Starting with "R"
raincoat
rainy
rake
rally
reap
recreation
red
relaxing
reunion
ripe
roaring
rustling
Autumn Words Starting with "S"
scarecrow
scarf
scary
scenic
school
seeds
September
snuggle
soggy
spectacular
spider web
spooky
squash
squirrel
stuffing
supply
sweater
sweet potato
Autumn Words Starting with "T"
Autumn Words Starting with "U"
Autumn Words Starting with "V"
Autumn Words Starting with "W"
walnut
warm
weather
web
weekend
wilting
windy
winter
wondrous
woodland
woolens
Autumn Words Containing with "X"
Autumn Words Starting with "Y"
Autumn Words Containing with "Z"
What Are Adjectives About Fall? Autumn Adjectives List
Autumn is associated with crops' harvesting, festivals and rituals. Besides, autumn is when animals gather food to prepare for the coming winter. Birds migrate toward the Equator to escape the cold weather. This is a comprehensive fall words list that illustrate essential and common adjectives that best describe autumn/ fall season.
| | | | | |
| --- | --- | --- | --- | --- |
| earthy | fall-inspired | abundant | crackling | autumnal |
| harvested | rustling | howling | bountiful | enchanting |
| seasonal | foggy | windy | gray | woodland |
| hibernating | breezy | yellow | ripe | vibrant |
| rust-colored | red | colorful | moonlit | chilly |
| relaxing | deciduous | wilting | crunchy | inspirational |
| back-to-school | enjoyable | frosty | crisp | spooky |
| vivid | cozy | fresh | farm-grown | fallen |
| soggy | changing | pumpkin-flavored | orange | gusty |
| leaf-strewn | magnificent | amber | overgrown | turning |
| spectacular | cold | flannel | gold | pumpkin-spiced |
| unpredictable | brilliant | rainy | raked | scary |
| comfortable | bright | colder | fireside | foraging |
| blustery | brown | wondrous | colored | brisk |
Amazing Fall Words List: Beautiful Verbs for Autumn
This list compiles important verbs to describe this crispy fresh, cool weather and activities of the autumn season.
hibernate
buy school supplies
carve pumpkins
catch a chill
winter clothes
change
watch the leaves fall
crunch
keep warm
migrate
pile
cough
prepare for winter
rain
gather
wind down
get colder
rake leaves
prepare
reap
bake
smell
breathe in
give thanks
burn leaves
reflect
see your breath
fall back
forage
go back to school
bundle up
go pumpkin picking
harvest
settle into winter
sneeze
hear the hoot of an own
snuggle up
study
transform
watch football
What Words Are Associated with Autumn? Good Fall Nouns
Check out this extensive list of nouns related to autumn that will help you grow your vocabulary about this wonderful season:
acorn
apple cider
apple pie
apples
autumn
autumn abundance
autumn gold
autumn leaves
autumn splendor
autumn sweater
autumnal equinox
bale of hay
bare branches
barn owl
beets
black crows
Black Friday
blanket
blue jeans
bonfire
boots
brown leaves
burning leaves
bushel
candy corn
change of season
chestnuts
chill in the air
chilly morning
chipmunk
cider
cinnamon
clouds
cobwebs
cold
cold ears
cold nights
cold snap
cold toes
colors
comfort food
cool air
haystack
heater
hibernation
homecoming
hoot of an owl
horn of plenty
hot cocoa
howling wind
hunter's moon
Indian corn
Indian summer
jack-o-lantern
jacket
leaf pile
leaves
lip balm
long reading sessions
long-sleeved shirt
maize
maple syrup
maple tree
migrating geese
moon dance
moon glow
mud puddles
napping season
naps
nature
nature's palette
nighttime chill
November
nuts
October
old barns
orchards
pecans
pick of the patch
Pilgrim
pumpkin
pumpkin patch
pumpkin pie
pumpkin season
corduroy
corn
corn maze
cornstalks
cornucopia
cough
cranberry
crops
crow
dead leaves
dirty ground
elements
end of summer
fall
fall break
fall color
fall festival
fall fun
fall season
falling leaves
farm
farmer
favorite season
feast
first frost
fleece
flu season
flu shot
fluttering leaves
fog
foliage
football
frost
ghost
golden fields
gourd
grain
gray skies
Halloween
harvest
harvest moon
hay
quilt
rain
rainbow of color
raincoat
rake
rustling leaves
scarecrow
scarf
scenery
season
season of crows
September
sleet
slow cooker season
socks
soup
sparrows
special time of year
spice
spider's web
squash
squirrel
squirrels
stew
street cleaning
sweater
sweater weather
sweatshirt season
Thanksgiving
time of change
time of year
traditions
transformation
tree
tree branches
weather
wheat
wind
wind gust
winds of change
windy day
woods
Best Autumn Idioms and Phrases
1. To squirrel something away
Meaning: to hide or store something like a squirrel.
2. Autumn years
Meaning: it is often used to refer to the later years in someone's life.
3. To be nuts about someone or something
Meaning: to be obsessed with someone or something.
4. Apple of my eye
Meaning: Someone who is cherished above everyone.
5. Golden handshake
Meaning: Used in Business English to refer to a large sum of money given to an employee (normally high level) when they leave.
6. Old chestnut
Meaning: it refers to a story or a joke that has been told so many times that it becomes uninteresting.
7. Take a leaf out of someone's book
Meaning: to follow someone's example
8. To drive someone nuts
Meaning: to make someone go crazy.
9. Turn over a new leaf
Meaning: to reform and begin again.
10. Lost in the mists of time
Meaning: means that something has been forgotten because it happened a long time ago.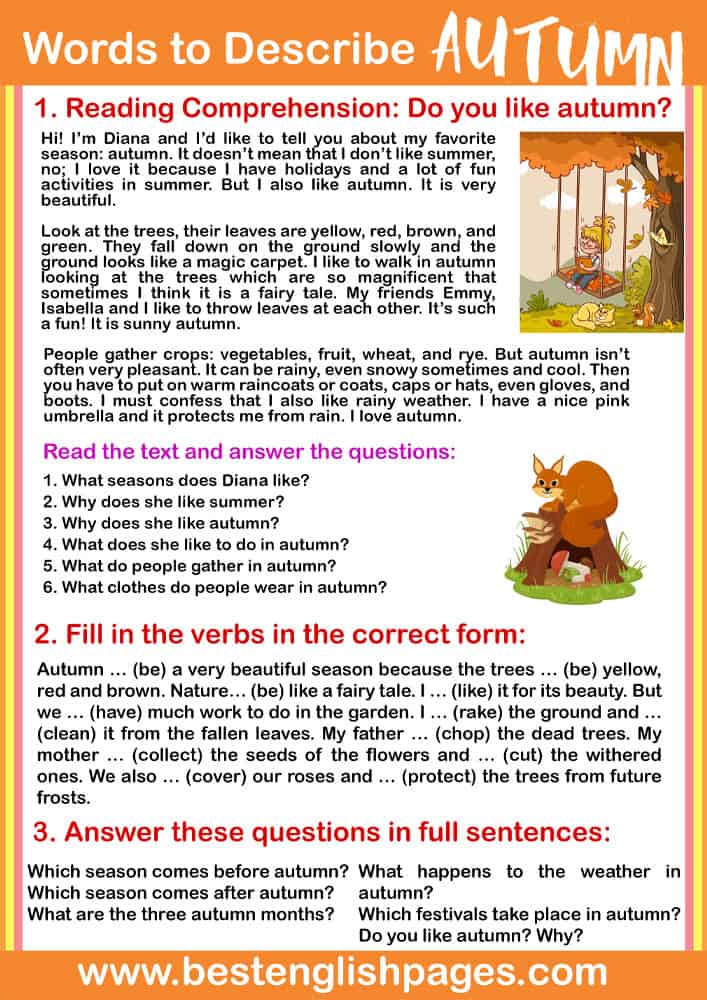 ESL Activities Related to Autumn
1. Reading Comprehension:
Do you like autumn?
Hi! I'm Diana and I'd like to tell you about my favorite season: autumn. It doesn't mean that I don't like summer, no; I love it because I have holidays and a lot of fun activities in summer. But I also like autumn. It is very beautiful.
Look at the trees, their leaves are yellow, red, brown, and green. They fall down on the ground slowly and the ground looks like a magic carpet. I like to walk in autumn looking at the trees which are so magnificent that sometimes I think it is a fairy tale. My friends Emmy, Isabella and I like to throw leaves at each other. It's such a fun! It is sunny autumn.
People gather crops: vegetables, fruit, wheat, and rye. But autumn isn't often very pleasant. It can be rainy, even snowy sometimes and cool. Then you have to put on warm raincoats or coats, caps or hats, even gloves, and boots. I must confess that I also like rainy weather. I have a nice pink umbrella and it protects me from rain. I love autumn.
Read the text and answer the questions:
1. What seasons does Diana like?
2. Why does she like summer?
3. Why does she like autumn?
4. What does she like to do in autumn?
5. What do people gather in autumn?
6. What clothes do people wear in autumn?
2. Fill in the verbs in the correct form:
In the garden
Autumn … (be) a very beautiful season because the trees … (be) yellow, red and brown. Nature… (be) like a fairy tale. I … (like) it for its beauty. But we … (have) much work to do in the garden. I … (rake) the ground and … (clean) it from the fallen leaves. My father … (chop) the dead trees. My mother … (collect) the seeds of the flowers and … (cut) the withered ones. We also … (cover) our roses and … (protect) the trees from future frosts.