Spring is the season that comes between winter and summer. It is the time when nature comes to life again. The temperatures begin to rise and the snow starts to melt. The sun begins to shine brighter. Flowers and fresh new buds start blooming and animals are awakening from their long winter hibernation. The wind is getting warmer, bushes and trees are turning green.
invigorating
awakening
rejuvenation
energized
delightful
rainbow
blooming
enjoyable
Alive
lush
blossoming
newborn
Spring is the most beautiful period of the year. There exist various phrases and words to describe spring joy and beauty. This is a colorful collection of spring words to help you bloom your compositions about this delightful season.
What are Words That Describe Spring? Words to Describe Spring
The following is a pleasant and enjoyable compiled list of noun words related to spring that will help you reinforce your vocabulary about the spring season and spring activities.
What Are Words that Describe Spring? Words To Describe Spring
| | | | | |
| --- | --- | --- | --- | --- |
| rainbow | cherry blossoms | pollen | sprout | mud |
| regeneration | new beginnings | blossoms | raindrops | butterfly |
| spring storms | seedling | allergies | valley | warm air |
| robin | time of change | warmth | cheer | rites of spring |
| sweet spring day | vale | duckling | vernal equinox | tree |
| woods | feeling of hope | weather | springtime splendor | fragrance |
| watering can | tulip | colors | baby animals | spring equinox |
| sunlight | memories | chick-a-dee | prosperity | ladybug |
| eggs | daffodil | bbq | rebirth | daisy |
| hatchling | time of year | pansy | sunshine | calf |
| first day of spring | April | splendor | spring garden | tornado |
| vacation | perfect temperature | open windows | beauty | scent |
| petals | blue sky | yard | duck | picnic |
| caterpillar | nature | shoot | bouquet of spring | worm |
| birth | smell | the cycle of life | smell of cut grass | puple iris |
| sap | fair weather | spade | daylight | smiles |
| newness | dale | breeze | spring fling | pastel colors |
| raincoat | greenery | transition | mulch | field |
| crocus | fawn | spring wedding | chick | arrival of spring |
| spring cleaning | nest | thunderstorm | puddle jumper | spring flowers |
| renewal | spring buds | spring salad | spring showers | new life |
| Easter | cloudless skies | rain slicker | chirping birds | rejuvenation |
| seed | spring fever | spring | April showers | spring break |
| bulb | mud puddle | rain | blooms | apple blossom |
| cookouts | season | the end of winter | sapling | spring season |
| energy | outdoors | rain showers | buds | earth |
| puddles | birds | bunnies | signs of spring | Mother Nature |
How do you describe spring season?
Spring Words List: Spring Words Search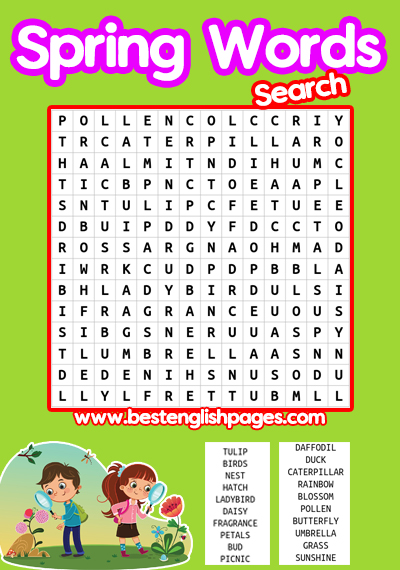 What are Words That Describe Spring? List of 100 Adjectives / Words to Describe Spring
Here is a cheerful list of adjectives describing spring that will help you bloom your vocabulary.
How do you describe spring season? Spring Words
melting
new
newborn
outdoor
pastel
peaceful
picture perfect
playing
pleasant
pretty
pure
rainy
refreshing
rejeuventating
relaxing
renewing
romping
scampering
seasonal
singing
delightful
energetic
energized
enjoyable
fair
swimming
teeming
tender
thriving
unpredictable
verdant
vernal
fecund
fertile
floral
flourishing
fluffy
fragrant
free
fresh
green
growing
happy
hatching
healthy
heavenly
melting
new
newborn
outdoor
pastel
peaceful
picture perfect
playing
pleasant
pretty
pure
rainy
refreshing
rejeuventating
relaxing
renewing
romping
scampering
seasonal
singing
delightful
energetic
energized
enjoyable
springtime
sprouting
stunning
sun-drenched
sun-filled
sun-kissed
sunlit
sunny
sweet
sweet-smelling
fair
fecund
fertile
floral
flourishing
fluffy
fragrant
free
fresh
full of energy
abloom
active
airy
alive
anew
awakening
barefoot
beautiful
blissful
blooming
blossoming
blue
breezy
bright
bucolic
budding
buzzing
changing
cheerful
cheery
chirping
clean
cloudless
colorful
crisp
light
lively
lovely
lush
magnificent
incredible
inspiring
invigorating
soft
sparkling
spectacular
spring green
spring-inspired
gentle
grassy
vibrant
warm
warming
What Are Words That Describe Spring? List of Verbs Related to Spring
If you wish to take your writings to the next level, consider employing these verbs related to spring:
How do you describe spring season? Words to Describe Spring 1
awaken
barbecue
bask
bloom
blossom
born
breathe in
bud
celebrate
change
chirp
clean
come alive
come to life
drizzle
dust off
emerge
hop into spring
learn to fly
make memories
melt
mow the grass
open the house up
open the windows
open up the house
plant a garden
play
play outside
rain
ready the garden
refresh
Words to Describe Spring 2
reinvent
rejuvenate
renew
feel free
flourish
flower
freshen
frolic
garden
get healthy
get in shape
get outdoors
get outside
glow
go camping
green up
grow
hatch
have fun
heat up
romp
shine
shoot up
shower
smell the flowers
smile
soak up the sun
spring ahead
spring into
sprinkle
sprout
take a walk
teem
thrive
wake up
warm up
water the flowers
What are Words That Describe Spring? List of 120+ Phrases Related to Spring
This is an essential compiled list of phrases and sentences related to the spring season that will help enrich your lexicon.
How do you describe spring season? Words to Describe Spring 1
a beautiful time of year where every thing seems to come to life
a blissful season
a bouquet of spring
a day in May
a day touched by sunshine
a special time of the year
a spring in your step
a time of gentle beauty
a time of renewal & new life
a wonderful/happy/invigorating time to be alive
April showers bring May flowers
as fresh as springtime
as new life begins to grow, birds chirp and flowers grow
beauty in bloom
birds chirping/flowers blooming/bees buzzing indicate that spring is here
birds learn to fly
birds leave their nest
blooming into spring
bright flowers and sights that please the senses
bring on spring
butterflies in the garden/glade
Spring Words 2
chase your winter blues away
don't forget your umbrella
enchanted April
everything sprouts in spring
feel the sun on your face
first day of spring
flourishing flowers
flowers are sunshine to the soul
fresh [] for a beautiful spring
get into the swing this spring
green grass brings great fun
spring ahead, fall back
spring at long last approaches
spring awakening
spring celebration
spring cleaning
spring event
spring fever
spring fling
Spring Words List 3
spring forward
spring has sprung
spring into []
spring into savings
spring into summer
spring is in the air
spring is when your soul is in bloom
spring makes the world a happy place where you see a smile on every face
spring solutions for []
spring surprise
spring the season of renewal and rejuvenation
spring, thy name is color
springtime selection
springtime splendor
stepping into spring
sweet as can be
sweet, springtime breezes
swing into spring
take time to smell the flowers
tender blooms emerge from the earth
Spring Words 4
the blossoming splendor of spring
the days are getting longer & the sun is shining brighter
the fertile earth gives birth to new life
the first sign of spring
Happy Spring!
he's no spring chicken!
here comes the sun
hop into spring
hurray for spring
I can't come into school today, I've got spring fever!
I see green again!
in springtime, love is carried on the breeze
in the merry month of May
it's finally spring!
it's not easy being green
it's raining cats and dogs
just another rainy day in spring
let your smile be your umbrella
life is in bloom
love bugs and crazy daisies
Spring Words List 5
may your home/heart bloom bright this spring
may your spring season full of hope, life. and new beginnings
mud puddle party
nature's buds and blossoms
newly turned dirt
no matter how long the winter, spring is sure to follow
nothing is so beautiful as spring
out like a lion, in like a lamb
put away your winter clothes
rain, rain, go away, come again some other day
raindrops keep falling on my head
rainy day fun
scampering, young animals
seasonal joys
shake off the embrace of the winter months
shake off those winter blues
the hills are alive with color
the sight of kites in the sky
the sights and scents of spring
the smell of rain on dry earth
the sun melts the snow to reveal
Spring Words List 6
the sweet and soft singing of birds
the sweet buds of spring
the sweet sights of spring
the wait is over
the winter is finally over
the wonder of springtime abounds with vivid colors
the world is more colorful
the world is very old, but in spring it grows young again
though April showers come your way, they bring the flowers that bloom in May
time to begin again
time to get healthy
tiny buds on tree branches
tiny, green buds
tiptoe through the tulips
touched by sunshine again
transition into spring
usher in the warm cheer of spring
when it rains, it pours
when nature is a canvas of pastel colors
when the clouds part
when the earth comes alive
when the forest floor comes to life
when the world reinvents itself
when the world starts anew
witness harmony in nature
witness life being breathed back into the world
Related Questions:
What Are Some Outdoor Activities People Can Do During Spring?
Spring is a season of awakening, growth, and new beginnings. After the long sleep of winter, spring is the perfect time to try and explore brand-new outdoor activities and enjoy all the green new season. Here are some great activities you can try out with the whole family members.
Seek out a rainbow
Plant a spring garden
See the cherry blossoms
Have a picnic at the park
Listen to the birds singing
Play softball
Seek out the first spring flowers

Take a hike

with friends

Go bare-legged

Ride a bike

Visit a farm to see the baby animals

Walk on an empty beach
Enjoy the spring weather at an outdoor park or café
Go horseback riding
Listen to the rain

Notice the trees budding

Go for a run with the kids
Watch bumblebees at work in a garden
Buy your kids colorful umbrellas

Feel the sun on your face

Pet bunnies

See all the Oscar-winning movies
Send someone other than your mom a Mother's Day card

Visit the zoo

Decorate your rooms with fresh tulips and daffodils
Leave your windows open to catch a spring breeze
Wear open-toed shoes
Get caught in a spring shower
Inspirational Spring Proverbs
A misty winter brings a pleasant spring, a pleasant winter a misty spring.
(Irish Proverb)
Plan your year in the spring, your day at dawn.
(Chinese Proverb)
Spring won't come from one flower.
(Persian Proverb)
A year's harvest counts on spring; a man's success counts on his diligence.
(Chinese Proverb)
No matter how long the winter, spring is sure to follow.
(Guinean Proverb)
If you do not sow in the spring you will not reap in the autumn.
(Irish Proverb)
A kind word is like a Spring day.
(Russian Proverb)
A good year is determined by its spring.
(Portuguese Proverb)
A wet January, a wet spring.
(Traditional Proverb)
The blossoms in the spring are the fruit in autumn.
(Latin Proverb)
Reading Comprehension Related to Spring Season:
Exercise 1
It had been a grueling winter, but now spring was just around the corner. Clara decided that a garden would be just the thing to perk up everyone's spirits. Her grandfather had a green thumb, so she asked him to help her find the perfect spot in the yard. Mr. King found a sunny area near the rear of their property. Together, they enclosed it with a short mesh fence to keep out the rabbits and squirrels. Clara prepared the soil as her grandpa instructed, planted and watered her garden. By April, the plants had begun to sprout, and in May Clara's flowers began to bloom.
Questions:
Is this paragraph suspenseful, humorous, happy, serious, or a combination of moods?
Why or what makes you think this?
What picture came to mind as you read this paragraph?
How did you feel when you read the paragraph?
Exercise 2
During this time of year, flowers bloom into bright colors. The grass grows greener, and the butterflies fly about in the light winds. Many chicks break out of their eggshells and make their way into the world. Families have picnics together in the afternoon sunshine.
Questions:
What season is this?
Describe this season in your own words.
Exercise 3
Fly was enjoying the lovely spring day in the garden. In the morning he was out looking for something for breakfast. He buzzed around the flowers a while but then caught the scent of something sweet. Strawberries! He landed on a ripe one, had his fill, and was ready for a nap. He took off toward the wheelbarrow. He was sleepy but not sleepy enough to notice that the coast was no longer clear. Had the sun not been shining he might not have noticed that Spider had a new home.
Question
Rewrite this paragraph from Fly's point of view.
Exercise 3
Molting is the name given to the process an animal uses to shed its skin, feathers, hair, or body parts. In insects, as a larvae grows, the outer covering becomes too small. Snakes shed their skin for a similar reason.
This may take only a few minutes. It is really weird to watch. Many species of birds shed their feathers, but unlike insects or snakes, this process is gradual. Mammals also replace their hair or fur over a long period. Perhaps the most dramatic case of molting occurs in deer and moose. They shed their antlers every spring.
Questions
Underline the sentence that gives the main idea.
Cross out the sentence that gives a detail that does not belong.
Write a good title.